Multi-way valve (MWV)
The Multi Port Valve MWV is used in complex mobile air conditioning and heat pump systems to switch between these two operation modes. In addition, the MWV offers other switch positions to exhaust other system components before they are temporarily shut off from the operating system or before evacuating the whole A/C system.
The MWV supersedes up to 4 solenoid valves with following benefits:
less lines and connections needed
smaller installation space
Simplified assembling
Only one bracket necessary
Only two electrical connectors to be controlled
Due to its smart motors, the MWV is very quiet and a low energy consumption device. Thanks to its self-locking gearbox, the motor only needs electrical power during the switching process only. The smooth valve switching operation prevents hiss and bump flow noises.
Valve seats and sliders are highly wear- and mud resistant ensuring a high internal leak tightness over life time.
Important technical characteristics:
For chemical refrigerants R134a and R1234yf in combination with PAG and POE oils
Low pressure losses
High switchable pressure difference (MOPD ≥ 20 bar)
Very low internal leakage (≤ 5 g /h)
Low weight
Can be mounted in any orientation
LIN control
Multi-way valve: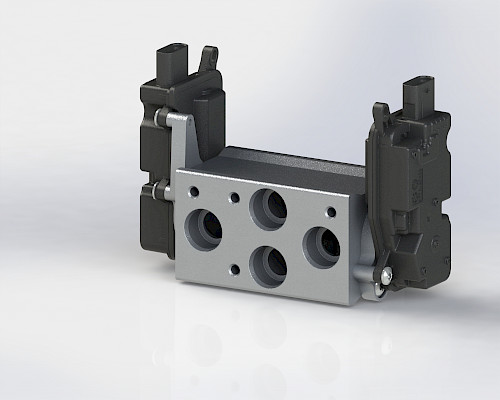 click to enlarge image