A/C System Test Bench
In addition to the tests, which specifically relate to the products in the EGELHOF portfolio, it is necessary to consider the overall "A/C system loop" for the interaction of the individual valves and circuit components. The reason for this is on the one hand the increasing further development of air conditioning systems with more complex circuitry and on the other hand the new development of air conditioning systems with electrical and electronic components in the course of the introduction of e-mobility, from hybrid vehicles all across to fully electric drives.
The functions of each individual components and it's interaction is becoming more important. Therefore EGELHOF decided to merge its experiences as a manufacturer of control valves with the experiences of our customers.
For more than 10 years, EGELHOF has been offering to design single and two-evaporator air conditioning systems as well as chiller circuits in the company's own A/C system test bench. The circuit components and pipelines can largely be installed in their original installation position, just like in the vehicle.
Performance ranges defined on a large scale allow the simulation of nearly all important environmental conditions.
Adaptation and validation of the selection of Thermostatic Expansion Valves (TXV) as part of the system development for and with our customers.
Weak point analysis in refrigeration cycles.
Benchmarking of various valve manufacturers and other circuit components.
Simulation or replication of errors occurring in the field and development of corrective actions.
Consideration of heat exchangers within the system, in relation to air distribution and oil transport.
Investigation of condensate formation and condensate drainage behavior.
Assessment of the performance of a vehicle A/C system based on the refrigeration cycle and the interaction of the control components.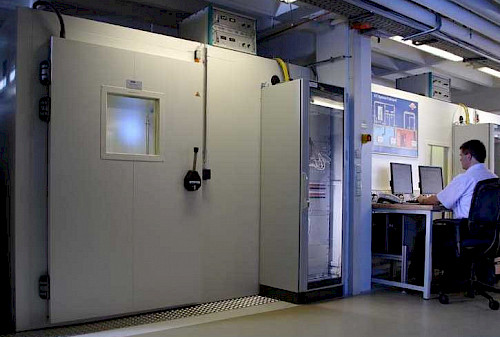 click to enlarge image