Transmitter Bellow (WÜB)
The functional principle is based on a hydraulic force transmission. The resulting force or changes in displacement of the bellow system can be used as a constant control or switching function in connection with electronic or electro-mechanical components. It is mainly used as a direct mechanical actuator.
Operating principle allows for an individual adaptation of force, displacement and expansion.
Characteristics:
Function not requiring any auxiliary energy
Liquid charge
High transmission forces
"Low dependency on temperature by reduced expansion from 0.02 up to 0.08 mm/K"
Applicable for temperatures from +5°C up to +55°C
Linear characteristic
Different transmission ratios applicable
Long capillary lengths possible
Materials:
Copper, bronze (bellow only), brass or stainless steel, plating on demand
Application field:
Building / industrial services, faucets, air conditioning devices, displacement transmission, remote control, force transmission also with different transmission ratios.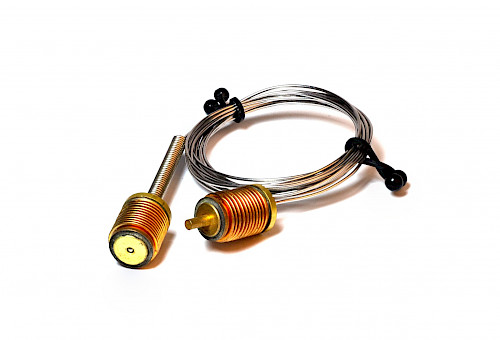 click to enlarge image